Eeuwe Zijlstra has completed his bachelor studies Organ Pedagogy, and his master studies Organ Performance, Church Music and Choral Conducting at the Academies of Music in Groningen, Alkmaar and Leeuwarden. Among his teachers were Jos van der Kooy, Wim van Beek and Rein Ferwerda. He has also taken part in many masterclasses, with Hans Haselb÷ck, Anders Bondeman and others.
Eeuwe is organist of the Dutch Reformed Church in Harlingen (Grote Kerk), which houses a fine Hinsz organ, and of the Mennonite Church in Groningen with its Marcussen organ. In his capacity of church organist he is also involved with the services of the Ecumenical Students' Fellowship, held in the Martini Church Groningen.
Eeuwe frequently gives organ recitals on the organ in Krewerd, which is one of the very few remaining late medieval organs anywhere in the world that is still playable. He is also the main organist of the only concert organ in the north of the Netherlands: the organ in the concert hall of "De Oosterpoort" Arts Centre in Groningen.
Furthermore Eeuwe has performed in Troms°, Norwich, Siberia and the Dutch Antilles (among other places). He is also adviser for organ policy with the city of Groningen and adviser for classical music with the Groningen Arts Council.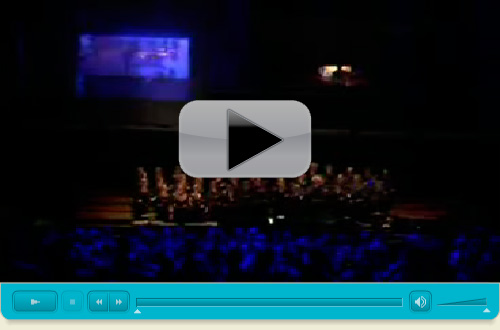 Salve Regina - Arvo Pärt
Project Choir consists of members of student choirs and Bragi to celebrate 79th anniversary Gica University of Groningen. Conducted on March 26 and 27, 2009 in De Oosterpoort.
Conductor: Jeroen Helder
Organist: Eeuwe Zijlstra